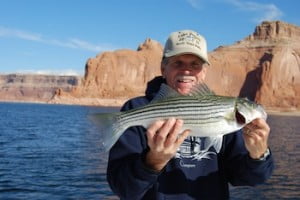 Lake Powell is celebrating its 50th birthday and the timing for anglers couldn't be better.  Lake Powell fishing expert and fish biologist Wayne Gustaveson says the spring and summer of 2013 are shaping up to make for a banner year for catchers and consumers of Bass, Stripers, and Walleye.
Gustaveson says the combination of a high water year at Lake Powell in 2011, followed by a relatively low level year with plenty of shad has set the stage for ample catches from both vessel and shore sooner than later.
Gustaveson has fishing Lake Powell literally broken down to a science and is no teller of tall tales.  His specific recommendations regarding rod, reel, test-weight of line, spinners, fly fishing, bait, and more can be found on his website www.wayneswords.com.  When he's not found working with fish on the lake for the Utah Division of Wildlife, Gustaveson can often be found fishing on the lake in search of the monster striper and adventure.